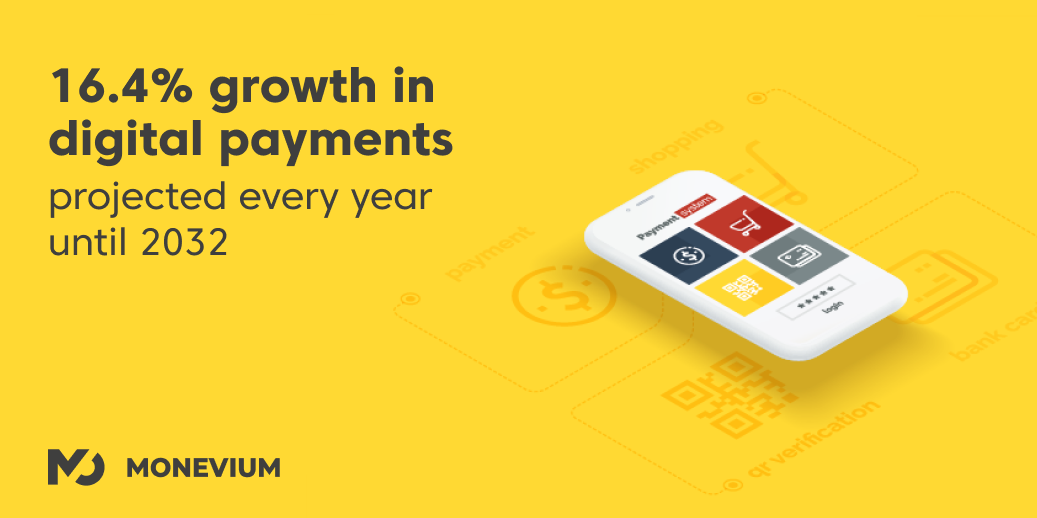 Perhaps unsurprisingly, the rate at which payments are being made via digital methods is set to grow rapidly over the next ten years.
The uptake of electronic payments in many regions across the world has been exponential, with today's retail experience for hundreds of millions of people being vastly different from that of just five years ago.
Bearing that in mind, it is therefore, perhaps not surprising that the projections for the uptake of digital payments for the next ten years consist of some exceptionally large numbers.
Market Data Library, a global professional services consultancy, released statistics in May, that show the use of digital payments across the world increasing by an average of 16.4% every year until 2032.
Should that be achieved, this would increase the combined annual amount of money transacted via digital payment methods to $8,132.6 billion ten years from now.
That would represent a huge increase over actual metrics that have been recorded in recent years, showing the actual current market size of the digital payment sector, with 2022 having concluded at $81.03 billion.
Whilst some existing research looks at the possibility of the global digital payments sector growing at an average annual rate of around 20% until 2030, this ten-year research looks at a detailed cross-section of the digital payments market across many verticals, including large corporations providing such a service and their current market penetration, methods of providing digital payment services, organisation size and region.
It is clear that the absolute saturation of the personal communications industry by mobile communication device manufacturers, led by Apple and Samsung, has paved the way toward digital payments being adopted by many private individuals who can now completely avoid having to carry a wallet or bank cards around, instead being able to make payments via a contactless method, with virtual cards held on the e-wallet function of a smartphone.
However, there are greater factors involved in driving up the use of digital payments by this huge projected amount.
One such factor is the vast increase in online shopping that has taken place recently, leading to many retailers concentrating on putting their business online, however another, rather at the other end of the commercial spectrum, is government initiatives in many nations around the world which promote the use of digital payments.
Key corporate players in driving the growth forward by further developing the infrastructure for making digital payments and connecting larger audiences include internet and e-commerce giants such as Alipay, Apple, Google, Amazon, PayPal, Square, Stripe and, of course, the traditional merchant services providers Visa and MasterCard which have committed significant resources toward digital contactless point-of-sale ("POS") payment solution development over recent times.
Interestingly, alongside contactless digital payments and online transactions conducted via internet portals in which 16-digit card details are entered by a consumer to make online transactions, the use of physical cards via contactless point-of-sale terminals has also been considered as a contributor to the projected growth.
Overall, it will become increasingly critical for members of the public from all walks of life and in various regions to ensure that their payment provider and digital wallet solution is innovative, secure, and scalable enough to provide the best quality of user experience as the number of products and services available via digital transactions increases.
Not only will existing services become increasingly purchasable via digital methods, but this level of growth is likely to set the scene for an entire range of new products and services which are available to all manner of people via an increasingly borderless network.
In short, buying things is getting easier, cheaper, and more practical, and the range of products and services available everywhere in the world is getting closer to your living room.
On this basis, choosing a quality financial technology company to help you go about your everyday life is vital, and Monevium is the obvious choice with its easy and fast access to British and European markets, secure electronic wallet with two-factor authentication and ultra-fast payment and settlement functionality.
As the size of the payment market grows, so do your life, social and commercial opportunities.
Monevium is the Trading Name of Advanced Wallet Solutions Limited, a company registered in the UK under company number 10251711 and is regulated by the UK's Financial Conduct Authority under Firm Reference Number 766038.