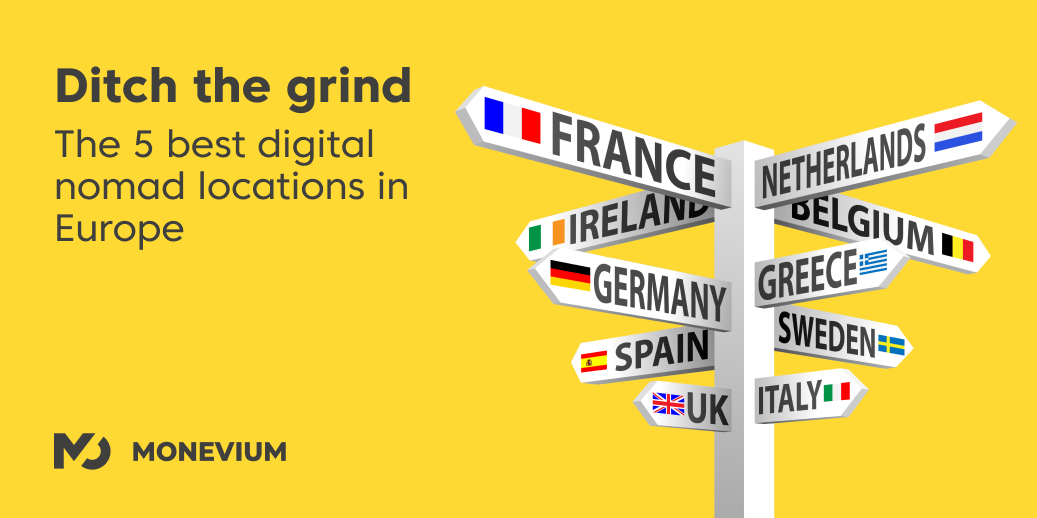 WFH is a three-letter acronym that has become part of the global lexicon over the past three years.
Everyone everywhere sees these letters regularly, whether in newspapers, lifestyle magazines, social media, and even corporate communications in workplaces.
WFH, which stands for 'work from home', could easily be regarded as the term of the decade, its proliferation across the internet began in 2020 and is no less common today.
Perhaps nowadays, it can be considered that not only has almost everyone accepted the 'WFH' phenomenon but has moved on from it even further.
Is WFA a thing? Could that be the next WFH? WFA would mean 'work from anywhere', and the movement toward this is very much in progress.
Initially, it was just a small number of people who work in the internet industry, bloggers or digital marketers who could be seen at a coffee shop with an Apple Mac open and an oat milk latte, but hundreds of Silicon Valley executives across all areas of the high technology sector began 'working from anywhere' during the strict lockdowns that the State of California imposed on its residents and workforce in 2020 and 2021.
There were reports of senior board decisions being made from poolside tables in Puerto Vallarta.
The mobility of work has remained, and now working from anywhere is possible for many people.
For the British workforce, there are many European destinations which appeal and are just a short flight away.
Fancy lower living costs, a lifestyle-first daily experience and continuity of employment?
Here are the five most interesting places in Europe in which to be a 'digital nomad'.
1. Tallinn, Estonia
Tallinn may well be northern destination and part of the Baltic region, but it has a huge amount of positive points which have attracted digital nomads over recent years.
Estonia is the world's most advanced digital society. Even driving licenses are digital, and absolutely nobody waits in line in an official department for anything. Absolutely everything can be done online.
This lends itself well to living in Tallinn and retaining the same career that you currently have in Britain.
The cost of living is low, opportunities to meet other digital nomads as well as local hi-tech workers in this compact and modern city are very high, and the summer features endless daylight in the form of the famed 'white nights' which means that sitting outside a café in the Old Town can be a leisurely affair after work in which a high-quality social life can be developed.
Estonia uses the Euro currency, so your daily life would be an easy read across from Britain by using the Monevium Euro account to send and receive payments.
Overall, Tallinn's international community of educated professionals has been an attractive talent pool for unicorns such as Skype, Bolt and Wise, among many others over the years.
In fact, Estonia has one of the highest numbers of unicorns per capita in the world.
2. Albufeira, Portugal
The Algarve is one of the longest-established resort regions, which has attracted British tourists and expatriates for decades.
Even back in the 1970s, when it was considered relatively rare to take a flight to a European country for a bit of time off rather than head to Brighton or Bournemouth, the Algarve had already captured the attention of the sun-seeking British families and had a number of hotels catering for family breaks.
Today, Portugal is home to over 30,000 British expatriates. Some are in Lisbon, the nation's capital, but many are in the sun-drenched southern Algarve region, with Albufeira, an attractive market town, being very popular indeed.
Albufeira boasts incredibly warm summers, beautiful beaches, and outstanding Portuguese cuisine, with the added benefit of having many English-speaking residents, at both native speaker level and as a fluent second language.
Portugal has been modernising its domestic economy over recent years and now stands out as an excellent nation in which to do business. Its population enjoys a high income, and it has an advanced economy with a diversity of industry, including financial services, software technology, clothes manufacturing, food export, pharmaceuticals, electronics, and clothes manufacturing.
A quality product comes from Portugal, and the culture is sophisticated whilst friendly and relaxed.
Being a digital nomad in Portugal is relatively straightforward. Excellent high-speed internet access gives you uninterrupted access to work, and the economic opportunities are among the highest in Southern Europe.
The Euro as a sovereign currency makes life easy, and your Monevium account easily facilitates everyday transactions.
3. Prague, Czech Republic
Fancy a well-organised, almost Teutonic everyday life experience without the expense of Western Europe's major cities?
Look no further than Prague, the capital city of the Czech Republic.
Prague is elegant and beautiful, resembling some of Central Europe's most popular cities, such as Vienna or Salzburg, but with a lower living cost and a young, dynamic population, which includes local and international people.
Life in Prague melds a combination of rich academic and cultural history with ultra-modern creativity and technology.
The Czech Republic's economy has grown exponentially over the past two decades, and many diverse businesses can call it their home.
Many highly educated international postgraduates from all over Europe reside in Prague, making it a great place for networking both socially and commercially. This section of society also contributes greatly to its standing as a digital nomad city of choice as well as an interesting place to go for that locally produced craft beer after a day with the laptop.
4. Como, Italy
Ask anyone who lives in Italy what they think of Como, they will all wax lyrical about its romantic beauty, proximity to Switzerland, and combination of local Lombardian culture and natural beauty.
Many will also say that it is unaffordable to live there.
That may be the case for people working in other parts of Italy, but for those who have a good career in the United Kingdom and want to live in a fabulous part of Italy, Como is a great choice.
Easily reachable from Britain via a 1.5-hour flight to Milan, Como is a backdrop of beauty, culture, fine cuisine, and operatic romance, which is as indulgent as can be without any need to disrupt your existing lifestyle.
In Italy, the cost of living is almost as high as that of France, but local salaries are considerably lower, making life relatively challenging for many Italians, but for those who earn their salary outside Italy, the finest points of one of the finest nations on earth can be enjoyed easily.
Como may well be one of Italy's most prestigious regions, but it is still less expensive than living in an urban area in the United Kingdom.
Also, Italy's infrastructure is far better than anyone, including many Italians themselves, give it credit for. The internet is high speed and high quality, and almost every transaction can be made via contactless payments.
What's not to love? Fresh local produce, rolling scenery, that incredible lake, and a highly sophisticated and cultured local population.
Italy is also looking closely at issuing digital nomad visas soon.
Where's that flight ticket? …
5. Pula, Croatia
Croatia's Adriatic coastline is quite simply magnificent.
Pula, a small, historic town on Croatia's highly popular west coast, is directly opposite San Marino in Italy and has some of the most spectacular views of the Adriatic Sea.
In summer, the weather is warm, with a sea breeze, and the lifestyle is a mixture of modern, trendy young professionals and traditional Croatian architecture and cuisine.
The cost of living is substantially lower than that of any medium-sized city in the United Kingdom, and life is calm and laid back.
Pula is also close to some of the world's most famous landmarks and cities, such as Italy's Venice, and is close to up-and-coming high-tech startup nations such as Slovenia.
Life for digital nomads in some of Europe's varied and fascinating regions has never been easier or better.
Equipped with a passport and a Monevium app, the entire continent is your oyster.
Monevium is the Trading Name of Advanced Wallet Solutions Limited, a company registered in the UK under company number 10251711 and is regulated by the UK's Financial Conduct Authority under Firm Reference Number 766038.