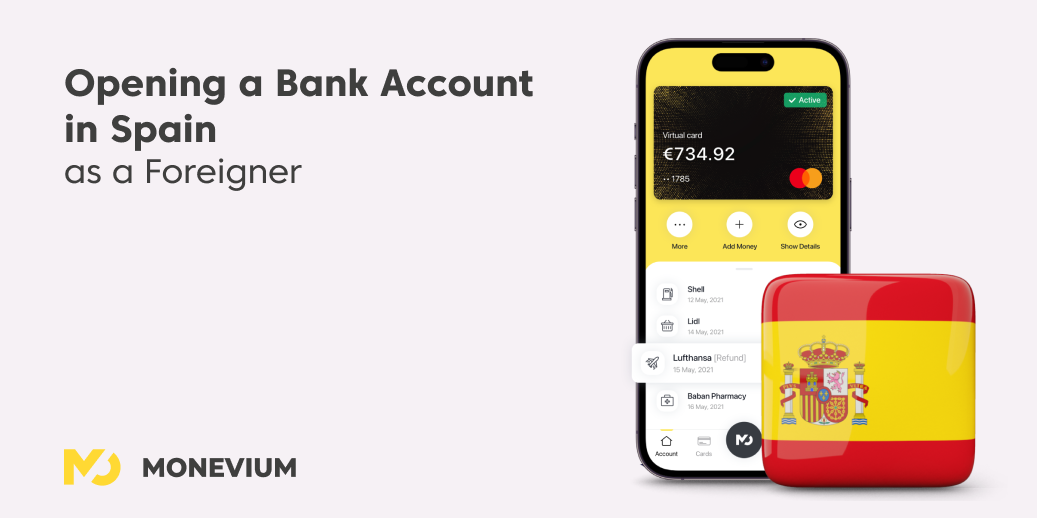 Relocating to Spain? The Spanish weather, varied landscape, Mediterranean cuisine, easy integration, cultural diversity, strong expat communities — all these surely help in making your decision. Spain is also a well-liked study abroad location for students from all over the world thanks to its excellent educational system.
So, what should you consider when planning your move to Spain? One of the first things is, of course, opening a bank account. What is next is a small checklist we have created for you to consider.
Opening a bank account in Spain as a foreigner
It is a relatively straightforward process. Spain has a well-developed banking system with numerous banks, both domestic and international, that cater to non-resident customers.
Here are the steps to open a bank account in Spain as a foreigner:
1. Choose a Bank:
Research and choose a bank in Spain that meets your needs. Some of the major banks in Spain include Banco Santander, BBVA, CaixaBank, and Banco Sabadell. Additionally, many international banks, such as HSBC and Deutsche Bank, have a presence in Spain and offer accounts to non-residents.
2. Gather Required Documents:
Before visiting the bank, ensure you have the necessary documents. While specific requirements may vary between banks you will need the following:
Identification: A valid passport or national identity card.
Proof of Address: A document that confirms your address, such as a utility bill, rental agreement, or a letter from your employer. The address can be in your home country.
Tax Identification Number (NIE): Non-Spanish citizens are required to obtain a NIE (Número de Identificación de Extranjero) from the Spanish authorities. You will need to apply for this before opening an account. It is usually obtained from a local police station or a Spanish consulate / embassy in your home country.
Proof of Income: Some banks may require proof of income, such as payslips, a letter from your employer, or bank statements from your previous bank.
3. Schedule an Appointment:
Contact the bank you have chosen to schedule an appointment or inquire about their account opening process. Some banks may also allow you to start the process online.
4. Visit the Bank:
Attend the scheduled appointment at the bank branch. During the appointment, you will complete an application form for a bank account.
5. Provide Necessary Information:
You will need to provide personal information, including your name, address, contact details, and financial information.
6. Be prepared to make an Initial Deposit:
Some banks may require an initial deposit to open the account. The amount varies depending on the type of account and the bank's policies.
7. Verification of Identity:
The bank will verify your identity, typically by comparing your identification documents with the information you provided.
8. Receive Account Details:
Once your application is approved, you will receive your account details, including your account number and IBAN (International Bank Account Number).
9. Review Fees and Services:
Familiarise yourself with the fees associated with your account, such as maintenance fees, transaction fees, and cashpoint withdrawal fees. Also, explore the services offered by the bank, including mobile banking, international transfers, and currency exchange options.
10. Maintain Records:
Keep records of all account-related documents, transaction receipts, and correspondence with the bank for your records.
Please note that specific requirements and procedures may vary between banks, so it is advisable to contact the bank directly or visit their website to confirm the most up-to-date information for opening a bank account in Spain. Additionally, if you are not proficient in Spanish, it may be helpful to bring along a translator or someone who can assist you during the account-opening process.
Types of bank accounts available in Spain
You may be thinking about two different kinds of bank accounts: resident accounts and non-resident accounts. Resident accounts, as the name implies, are for those who live in Spain, whereas non-resident accounts are for those who live elsewhere but may still want to maintain an account there.
If you want to purchase real estate in Spain but will not be residing there for an extended period, a non-resident account could be the best option for you. Even if you are not a Spanish native, opening a resident account is the best option if you want to move to Spain and use it for daily expenses.
The main categories of bank accounts that you are likely to encounter are as follows:
The term "current account" (cuenta corriente) refers to the regular, everyday account that you will utilise for daily expenses.
Your funds should be placed in a cuenta de ahorros (savings account) to earn a little more interest.
A deposit account, or cuenta de depósito, is like a savings account but has fewer ways to access the assets because it is intended for money that must be kept safe.
The purpose of your cuenta nomina, or salary account, is to collect your salary from your workplace.
As you can see, accounts in Spain are typically held for very particular purposes, and some people maintain many accounts depending on their needs.
Spanish bank account fee types
If you have a regular bank account, you may be subject to the following kinds of fees:
A maintenance fee may be assessed on a monthly, quarterly, or annual basis.
Fee for credit / debit cards: Having one of these cards may incur additional costs.
Cash withdrawal fee: To find out if using a cashpoint will cost you money, contact your bank. If you use a cashpoint that is not part of your bank's cashpoint network, you may be charged.
International transfer costs: Certain banks impose variable fees on customers who frequently transport money across nations.
Naturally, not every bank will impose each of these costs. Looking around to get a competitive bargain is worthwhile.
FAQ
What is a NIE?
- Your NIE ("Número de Identificación del Extranjero") is the number that identifies you as a foreigner. It will be granted once and will be forever with you (never changing).
- Your NIE number is one of the first things you must obtain when relocating to Spain.
It is the identification number you will use for nearly everything: to purchase a property, to open a bank account, to set up a business, and even to get your residency card.
- The NIE is just a number, not a physical document.
Can I open a bank account in Spain without an NIE?
Indeed, you do not need an NIE to create a bank account in Spain. While most non-residents and certain residents need to have an NIE, some Spanish banks could let you create an account without one, especially if you are a non-resident or have not received your NIE yet.
Policies and specific needs differ. If an NIE is not available, some banks could have different policies or more paperwork requirements. To find out about the bank's account opening procedure for those without an NIE, contact them directly or visit their website.
Moreover, an NIE is frequently required in Spain for a number of reasons, including job, tax requirements, real estate transactions, and more. To ensure compliance with local legislation and expedite numerous transactions, it is thus advisable to get an NIE if you want to stay in Spain for a lengthy amount of time or engage in activities that require one.
Can I open a bank account in Spain online?
Most Spanish banks offer online banking services.
Yes, it is possible to open a Spanish bank account online. Many major banks in Spain offer digital platforms and online services that allow individuals to open bank accounts remotely, without the need to visit a physical branch. This online account opening process is particularly convenient for non-residents or individuals who are unable to visit Spain in person.
Can a foreigner open a bank account in Spain?
A foreigner who does not reside in Spain is able to create a bank account. They must bring a certificate of non-residency and an identity document—typically a passport—to any of our offices to do this.
The individual must attend the nearest Foreign Office or Police Station with their passport, the necessary paperwork, and payment to get a Certificate of Non-Residency. The individual can apply for the certificate at a Spanish Consulate if they are currently overseas. The certificate is valid for three months and takes around a week to issue.
How to open a bank account in Spain as an international student?
To pay bills, sign contracts, and register for certain services, you will want a bank account if you choose to study in Spain. Getting an account here or managing your funds from abroad is entirely up to you; it is not required by law. Having said that, if you want to stay in Spain for an extended period, opening a bank account would be quite helpful.
If you are a foreign student studying in Spain, you will need to be over 18 years old and the following documents to open a bank account:
- proof of study (student card, letter from school or university).
- proof of address in Spain.
- a certificate of non-residence (certificado de no residente), which can be obtained from some local police stations. Before you get it, verify with the bank to be sure this is necessary.
Monevium Ltd is a company registered in the UK under company number 10251711 and is authorised by the UK's Financial Conduct Authority under Firm Reference Number 766038.