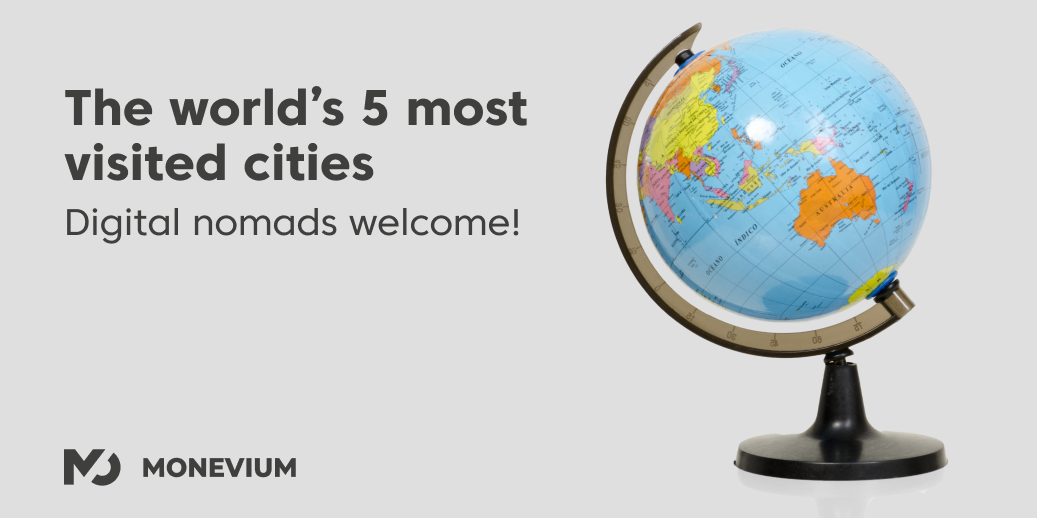 The world is a small place these days. There are a huge number of people of all ages from all backgrounds who think nothing of simply taking off and spending time in all manner of places around the globe, whether for a relaxing break or a 'working holiday' in which a laptop can be connected, and work can be continued for a few weeks or even months, whilst taking in the cultural experience of new surroundings.
Many people now enjoy the flexibility of working from wherever they choose, and the online world of work has given rise to an increased number of digital nomads – people who base themselves anywhere and carry on their work as usual.
Being a digital nomad certainly affords people a degree of liberty which was never previously possible, but it does come with considerations, mainly around the cost of buying everyday items overseas using a British account or payment card.
The five most visited cities in the world offer a varied and unforgettable cultural experience, and due to their huge numbers of visitors, most businesses and merchants in those cities accept contactless payments, allowing visitors to make purchases just as easily as at home, with a simple touch of a mobile device.
Here are the world's five most visited cities and how they suit travellers with a digital lifestyle.
1. Bangkok, Thailand
Bangkok is one huge metropolis. It is as exciting as it is chaotic. It is as colourful as it is disarming.
Every year, over 22.7 million international travellers head to Bangkok for both leisure and business purposes, and many spend long periods of time there, just as others spend a weekend when en route from Australia or New Zealand to Europe or North America.
Thailand's tourist industry is a veritable commercial giant. It is valued and protected by the national government, and there is something for everyone in Bangkok. Incredible cuisine, rich culture, and immersive urban experience in a city which does not sleep are attractions which keep people visiting.
Thailand has a rapidly developing digital financial services industry, and the ability to simply turn up with a smartphone and then go about the exploration of the city's bars, restaurants, attractions, and venues by paying with a contactless e-wallet makes life easy.
Additionally, as with many a vast metropolis, there are risks for British or European tourists, such as being a target for pickpocketing. The development of e-wallets and digital apps has comprehensively addressed this issue because even if a light-fingered criminal does manage to relieve you of your smartphone, they will not be able to spend your money. Monevium's digital smartphone app has two-factor authentication, which means it is useless to a thief. The same cannot be said about a physical wallet in which cash is stored!
2. Paris, France
The land of ultimate fashion, romance, beautiful scenery and one of the most sophisticated societies in the world is home to the world's second most visited city.
That city is Paris, the capital of France, which welcomes over 19 million visitors every year from all over the world.
Interestingly, whilst Bangkok is the world's most visited city, France is the world's most visited country with a landscape that spans from the northern coast opposite England all the way to the Mediterranean region with its upscale Cote d'Azur beachfront towns famous for elegant luxury brands and A-list celebrities, to the ski resorts of the Alps and the freshness of the Atlantic west coast.
Paris, the nation's capital, is, therefore, a huge attraction to tourists, whether European weekenders or longer-term visitors from wider afield.
Paris is famous for its avant-garde art and music scene, inimitably stylish residence, eclectic mix of Serge Gainsbourg-style social influence and artistic flair, as well as the 'Vive la revolution' spirit of French expression and nonconformity.
The Euro is the national currency of France, making it an easy destination for many people from other European countries, and for those wishing to visit from Britain, it's just under two hours on the Eurostar from London, and Monevium's Euro account gives instant, cost-effective access to Paris' fantastic lifestyle without the costs associated with having to transfer from Pounds at the point of sale.
France is one of the world's most digitally advanced nations, is highly technologically advanced and has contactless payment solutions in absolutely every walk of life. You simply only need to carry a smartphone.
3. London, United Kingdom
London's metropolitan population is over 15 million, and the city, which has given the world a vast array of literature, many life-changing inventions, and a royal family, which is renowned worldwide, welcomes over 19 million visitors per year.
Interestingly, aside from the 19 million tourists, London sees almost 4 million people from other parts of Britain come to London every day for work, to meet friends or go shopping. These visitors do not count as tourists because they live nearby, but that is a remarkable influx outstripping that of any city in the world.
London is also one of the world's most favoured cities in which to live. It has an inimitable combination of beauty, sophistication, social and employment opportunities, a world-class restaurant scene, and so many events that you could live in London for decades and not cover everything that is available.
It is safe, calm yet dynamic and fascinating. Historic and majestic yet ultra-modern and urbane.
London is also the world's financial capital. Its financial centre powers the entire world's economy and has a trade surplus of over £97 billion per year.
Everything from buses and the London Underground, that famous Victorian work of engineering genius, to cafes, venues, supermarkets, and retail shops accept contactless digital payments, and people from all over the world tap their smartphones or smartwatch on point-of-sale terminals millions of times per day across the capital.
Next time you visit London, watch people open the electric turnstile on the Underground with their watch and then order a taxi using the very same device. Those who grew up watching Knight Rider in the early 1980s may view London as the fruition of such science fiction, which has now become an everyday reality for millions of people.
4. Dubai, UAE
Fancy a bit of unashamed, blatant luxury? Dubai is the place.
Dubai is a relatively small place in terms of land area, and aside from the incredibly impressive modern urban structures, it is situated in an arid desert, however despite this, it is a destination favoured by over 15 million tourists per year.
Dubai is popular for short breaks among people from Europe, Asia, and the Middle East, but it also is one of the most popular places in the world for Western expatriates who spend between 1 and 5 years living and working in the Emirati city.
There is no tax, high demand for skilled professionals in many fields ranging from high tech to construction, remarkably high earnings potential and the ability to combine a year or two's professional career with a genuinely high-quality bit of long-term tourism.
Food, hospitality, and levels of luxury are outstanding, and the ex-pat lifestyle is not so developed that Dubai actively promotes it in order to bring more people to the city for short to medium-term stays.
The cost of living or touring is high, but the earnings potential whilst in Dubai is equally high. Everything is contactless, and digital payments are widespread, along with the comforting knowledge that there is not much in the way of crime.
In the areas that are popular with tourists and ex-pats, luxury and personal safety are almost a given.
Going there to spend money on luxury is equally a given!
5. Singapore
Extreme semi-equatorial humidity and a population density of almost 8,400 people per square kilometre, do not deter nearly 15 million people from visiting Singapore every year.
Singapore is a fascinating place. Only a few decades ago, its leader Mr. Lee, had a vision which involved transforming the city from a simple, developing island and city-state from a series of tropical mudflats, into a thriving metropolis and taking its population out of poverty into absolute opulence and success. With the commitment of the Singaporean people, Mr. Lee achieved this within just two decades!
The country consists of one city and is an international hub, often regarded as the 'Manhattan of the East' due to its highly diversified Wall Street-style institutional financial sector, comprising multinational investment banks, hedge funds, electronic trading companies and wealth management giants.
Singapore also has a massive commodity trading industry and is a bridge between the East and West as far as financial investment and global trade are concerned.
Singapore's cityscape is modern and advanced and is well known for being a bastion of efficiency and immaculateness. Its culture is a fusion of Malay, Chinese, Indonesian and a wider international influence from the European residents, that was implemented during the British period.
Notoriously expensive, Singapore has a range of highly luxurious activities, outstanding fusion cuisine and attractions for tourists and expatriates alike. The use of digital payments is widespread as Singapore is one of the most technologically advanced financial centres in the world and attracts highly paid executives from all over the world to live and work in Singapore in senior positions.
So, there it is, the five most visited nations in the world. All different, all fascinating, and all offering something for everyone – and most importantly, all have easily accessible activities with today's electronic payment methodology. Click, fly, and enjoy!
Monevium is the Trading Name of Advanced Wallet Solutions Limited, a company registered in the UK under company number 10251711 and is regulated by the UK's Financial Conduct Authority under Firm Reference Number 766038.