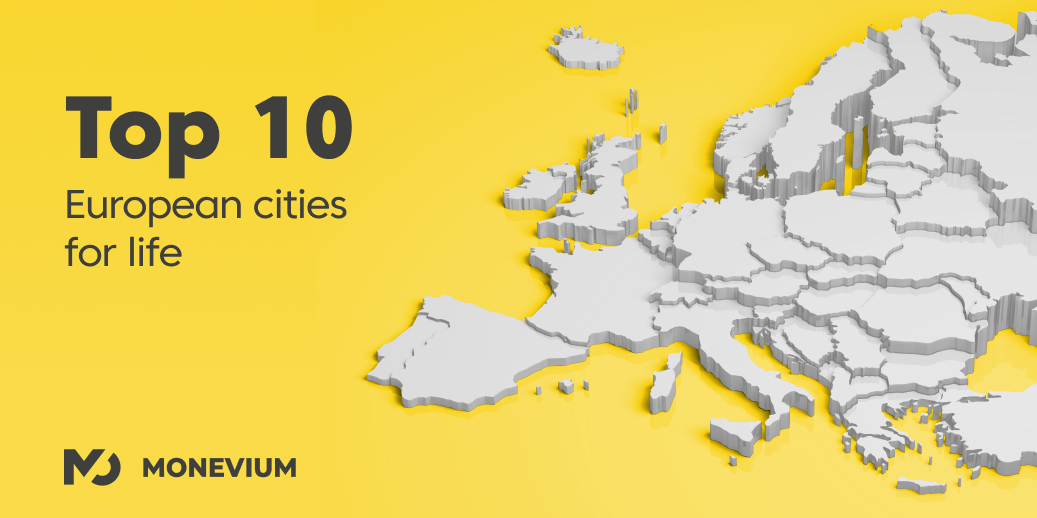 Great Britain is a wonderful country.
Its rich heritage and stable, internationally renowned economy, varied and picturesque landscapes and high standards of living, set it among the very top nations. It is also one of the most popular tourist destinations in the world, with almost 30 million people visiting London per year, making it the world's most-visited capital city.
Tens of thousands more visit other regions of the country, from the magnificent Lake District National Park, through the Midlands - the birthplace of William Shakespeare and Robin Hood - to the idyllic coves of Cornwall however, for many British people seeking new adventures, life opportunities or simply warmer weather, the entire continent of mainland Europe is on Britain's doorstep, offering a range of attractive reasons to experience life in a different environment that is not very far from home.
Life in the array of cities across mainland Europe varies tremendously however, here are 10 places of interest that are friendly to expatriates and can be considered for a great lifestyle.
1. Geneva, Switzerland
There is no other way to describe it, Geneva is quite simply a beautiful city. Relatively compact in size with approximately 250,000 residents, it nestles along the coastline of the famous Lake Geneva at the foothills of the Alpine mountain range.
Geneva's magnificent mountainous backdrop and clear lake are recognisable in many movies, and the clean Swiss air and enviable work / life balance make it easily possible to enjoy these to the full.
Life in the city of Geneva is equally high quality. The central areas of Geneva are lined with fashion shops demonstrating haute couture at its finest, and there are gastronomic delights influenced by French cuisine to be enjoyed in luxurious surroundings with tremendous views.
Swiss culture is laid back and calm, and Geneva is a highly international city where the English language is used in every walk of life, even by local residents. It is home to the worldwide headquarters of the United Nations and is notoriously accepting of all people from all cultural backgrounds.
The prospects for employment are also very good, and salaries are among the highest in the world, which is just as well considering that such a high quality of life in such a well-organised and peaceful country is not cheap!
2. Nice, France
If the sun, the radiant blue Mediterranean Sea combined with outdoor café culture, and if the sensibilities and convenience of northern European culture is your thing, then Nice, one of the largest cities in southern France, may be worth considering.
Nice is situated on the French Riviera, one of the world's most popular tourist destinations within the world's most visited country.
The city is home to 350,000 people and has a very developed and substantial international community, and its proximity to Monaco, a global centre for the world's rich and famous, means that it may well be very French in its look and feel, but it hosts a vast amount of people who have come from all corners of the earth to enjoy its classical Gallic charm.
Also, nearby is Cannes, home to the annual film festival. Cannes is Europe's version of Hollywood and has an abundance of elegance all year round, with the arrival of the stars topping it off once a year.
If eating Sole Meuniere with the finest silver service on a beach terrace appeals to you, this is a great area of urban sophistication and Mediterranean cool.
3. Stockholm, Sweden
A move to the north may appear anathema to many British people, as it is common thinking that many people who only leave their comfortable lives in Britain would only be attracted by warmer temperatures however, the Scandinavian lifestyle has huge appeal.
Stockholm is in the southern part of Sweden; therefore, its winters are no less severe than those of New York or Toronto, both of which are also hugely popular.
The city is a fashionable and ultra-modern delight and has one of the most socially advanced societies in the world. The Swedish social model provides high-quality education, childcare and retirement without any personal outlay, and the population is sophisticated to the extent that what is considered a luxury in many other parts of the world is considered normal in Sweden.
English is spoken fluently by almost everyone, and the country is well known for being very accepting of people from all over the world.
High salaries and a secure, democratic environment with almost no corruption are ideal foundations for a great society, and culturally, Sweden is a highly advanced nation which has brought some of the world's most famous brand names to fruition.
4. Vienna, Austria
The home of classical musicians Wolfgang Amadeus Mozart and Johann Strauss, Austria's capital city is very much a musical and cultural centre to this day.
The beautifully presented parks in the city proudly display homages to the Viennese musical greats, set among architecture which includes the palaces of the Habsburg dynasty.
Vienna's elegance is also very affordable, with living costs considerably lower than those of the United Kingdom, which is one of the many reasons for Vienna's popularity among students from all over Europe.
There are many career opportunities for native English language speakers, as Austria is a centre for international manufacturing and high technology, largely due to the number of international students who choose to make Vienna their permanent home after completing university degrees in the city.
The Danube river flows through the centre of the city and highlights its proximity to other attractive centres in the region, including Bratislava, Slovakia and Budapest, Hungary, which are all within a short drive.
Vienna is safe, affordable and international therefore, a popular choice among those beginning their careers who are looking for a central European location and ease of access to a range of cultures and societies.
5. Tallinn, Estonia
Way up in the far northeast of the European continent is the small yet modern city of Tallinn, the capital of Estonia.
Before 1991, Estonia was under Soviet Union leadership, and since its independence, the country has made many very intelligent steps toward furthering its presence as a business centre and attracting talent from around the world.
Today, Estonia is the world's most advanced digital society. Literally, everything can be done online, and even driving licenses are digital. There is very little obsolete practice, and everything works efficiently.
This digitalisation and efficient structure of everyday life led to a number of technology giants emerging from Estonia, most of which have their headquarters in Tallinn.
Skype, the first of the Estonian unicorns, came to fruition in the late 1990s, far before many Silicon Valley giants, let alone other European unicorns.
Since then, a disproportionately large number of tech giants call Tallinn their home. The city even leads the way in digital currency, with the headquarters of many DeFi projects being based there and government regulations which comprehensively cover e-Wallets, blockchain projects and cryptocurrency-related services.
A small city on the shores of the clear and fresh Baltic sea with white nights in summer, it may be, but a multilingual, international hi-tech centre is the true nature of Tallinn.
6. Riga, Latvia
Rather similarly to Tallinn, Riga reinvented itself after the fall of communism in the early 1990s.
Unlike Tallinn, however, it did not reinvent itself as a clinical, ultra-modern model of functionality and technology but rather as an affordable way to live a quintessentially European lifestyle with great food, easily affordable yet elegant living conditions and low entry barriers to business.
Riga has a number of English-speaking job opportunities, and when working for international companies and living in Riga, a very good standard of living can be afforded without the strenuous efforts required to achieve the same level of comfort in Western Europe.
The country is multilingual, with many of its residents speaking at least two languages, and fluent English is widespread.
The influence of the Scandinavian lifestyle is evident in all areas of Riga, but the cost of enjoying such a lifestyle is a fraction of the same standard just across the water in Scandinavia itself.
7. Lisbon, Portugal
Portugal has made tremendous leaps forward over recent years.
The small Western European nation has gone from being a relatively poor, agrarian society in the late 1980s and early 1990s to a modern, well-organised and industrially developed society today.
The city, which lies on the West coast of the European continent facing the Atlantic Ocean, may well have a history including rulers, invasions, destructions, and re-constructions, as well as having played a central role in the foundation of the Americas by European settlers who sailed from Portugal to cross the Atlantic, but today's Lisbon is stable, modern, urbane and cool.
Many Portuguese emigrants to the United Kingdom returned quite happily to Portugal during the 2020 / 2021 lockdowns, which residents of Britain had to endure because the opportunities back in Portugal were just as great as those in Britain, but without the restrictive government measures.
As a result of the pragmatic approach taken by Portugal's government, the economy is doing very well, and life is very good.
Lisbon is a peaceful city, very safe, and has fantastic food, notoriously friendly and kind residents and is very welcoming to international emigrants who choose Lisbon as their home.
There is a burgeoning high technology sector arising in Lisbon, with many international tech conferences taking place each year, further alluding to the growth of the city as a business hub.
Combining modernity, economic growth, and a good standard of living with the West coast Atlantic climate, and life in Lisbon looks very good.
8. Zurich, Switzerland
Another Swiss paradise is Zurich, a larger city than Geneva in the German-speaking section of Switzerland.
Zurich is a very refined and advanced financial markets capital, and therefore one of the wealthiest cities in the world, with many highly paid career opportunities.
Added to the omnipresent wealth is a lifestyle which is relatively relaxed for such an important commercial centre, with family life and spare time highly prioritised.
True to Swiss form, everything is well organised and works flawlessly, and there is a range of activities and societies aimed at international residents of Zurich, as over 25% of Zurich's population have moved there from outside of Switzerland.
Indeed, when considering the size of the international communities of Geneva, Lucerne, Zug and Zurich, it is clear that Switzerland is one of the most international societies in the world.
Easy access to outdoor pursuits, skiing, hiking, and winter sports adds to the appeal, and the chances of any form of instability in everyday life are pretty much zero.
9. Luxembourg
Luxembourg Is a city as well as a country. Yes, there are small towns in Luxembourg, but most references to Luxembourg relate to the actual city itself, which is a highly advanced multicultural metropolis which is bordered by Germany, France, and Belgium.
Luxembourg has the highest average annual GDP per capita in the world by far. At a $180,000 average annual salary per person, Luxembourg is an extremely wealthy nation, and this is apparent by just looking around.
Everything from public transport infrastructure to the maintenance of architecture is absolutely first class, and when out and about in Luxembourg, there is an array of fabulous restaurants and social activities to suit all.
Luxembourg has its own language, Luxembourgish; however, the vast majority of residents speak French on a day-to-day basis but also speak fluent English.
Employment opportunities in Luxembourg are among the best in the world, education is very good quality, and housing is of a high standard. Its location within Europe makes day trips to varied and interesting surrounding areas easy, and London is only a 4-hour train journey, or anywhere else in England a 1-hour flight should a trip back to England every now and then be needed.
10. Reims, France
Just a 4-hour drive from Calais, Reims is the capital of France's famous Champagne region.
There are many Champagne houses located in Reims, as well as in smaller villages outside the city, with more in Epernay on the famous 'Avenue du Champagne' where famous brands such as Moet & Chandon, Mercier, and De Castellane have their opulent headquarters.
Reims is a large city with many interesting attractions and is particularly good for family life, interspersed with a vibrant café culture, great food and, of course, the fruits of the local vineyards.
The Champagne region itself is a beautiful part of a beautiful country, has a lot of international residents, and most Reims residents can speak English due to the international export business for Champagne.
There are good careers available, mainly within the marketing sector for the Champagne industry, and salaries are high, education for children is very good quality and prospects for a sophisticated lifestyle are very good.
A trip back to England is only 300 kilometres to Calais, then a short Eurotunnel transit to Folkestone, Kent.
Monevium is the Trading Name of Advanced Wallet Solutions Limited, a company registered in the UK under company number 10251711 and is regulated by the UK's Financial Conduct Authority under Firm Reference Number 766038.