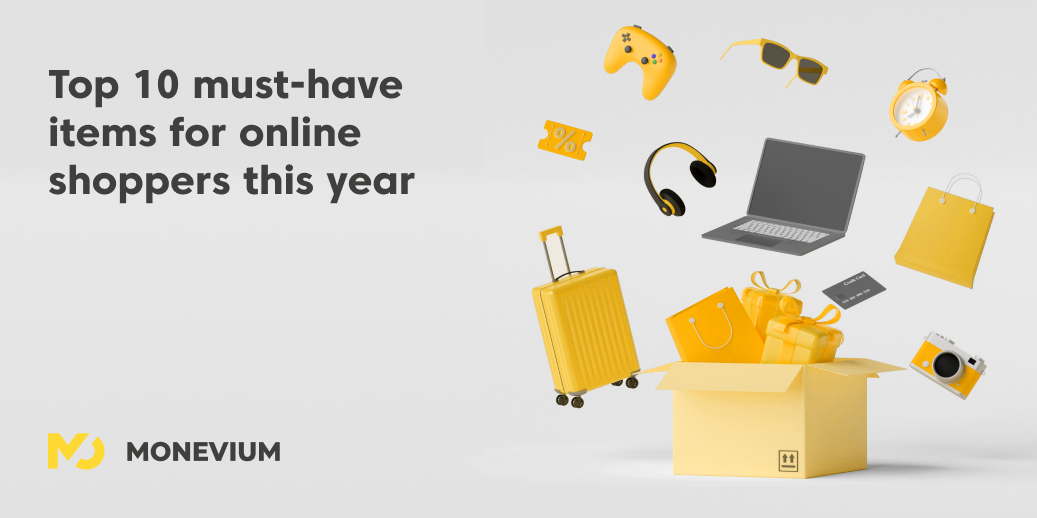 The shopping experience in Britain is one of the best in the world, with a range of diverse and high-quality products spanning boutique stores in trendy high streets to the increasingly luxurious standard of shopping malls.
Whether in Meadowhall or Westfield, Chelsea's Kings Road, or Manchester's Deansgate and hundreds of others across the nation, the retail experience keeps getting more advanced all the time.
Over the past three years, an extra dimension has been added to the shopping experience, being the refinement of the online store.
Those who perhaps would have preferred the 'showroom experience' of the shopping mall or high street until recently have now embraced online shopping due to the buying experience having been refined massively during 2020 and 2021, when many people were forced to shop online.
In line with the huge choice available, British customers are very discerning, and the most popular items in 2023 are interesting, and given the digital methods by which many people make purchases, there has been a significant increase in the number of products which are being sold online.
Here is a list of the top 10 items favoured by online shoppers this year:
1: Personal technology
Perhaps not surprisingly, the most popular items bought online so far this year are items such as electronic accessories for personal electronic devices such as earphones, mobile phone cases and straps, wireless charging devices for smartphones, laptops, and accessories such as bags, chargers, and cases, and perhaps more surprisingly, virtual reality headsets. One thing is for sure: British online shoppers love tech!
2: Music
When was the last time you saw a new car with that once ubiquitous slot in the dashboard into which a silver disc could be inserted to play music after fumbling in the glovebox to find that tune for that journey? It seems a long time ago now. That is because over the past decade, music has moved almost completely online, and lossless streaming is now possible to the extent that CD players are obsolete and apps such as Spotify, Apple Music and Amazon Music have taken over. It is therefore, no surprise in music-loving Britain that the third most purchased online item is music.
3: Food delivery – with a healthy twist
Since the introduction of independent food delivery companies into major UK cities, such as Deliveroo, Uber Eats and Just Eat, it would be easy to assume that the majority of choices of fast food or groceries deliverable via these ultra-convenient and fast methods would be a combination of unhealthy fast food and quick fixes. This is not the case at all however. The second most popular product type, which is purchased online in the UK, is healthy fast food, and organic groceries, demonstrating that people are very keen on convenience whilst keeping a healthy diet.
As the e-commerce market grew during the late 1990s and throughout the 2000s, there was still a degree of reluctance among clothes shoppers to order from the comfort of their homes. The shopping experience and ability to see perspective purchases in a real environment were still very much paramount. All that has changed now, and a plethora of online clothes retailers are now a mainstay of British retail volume. More people than ever are ordering their clothes and shoes online, with a vast range available and fully comprehensive returns policies in place for that peace of mind.
5: Books
CDs may be obsolete, and going to a shop to buy clothes is becoming obsolete, but the most analogue of items – the book – are not. Good old-fashioned reading from hard or paperback books is still in vogue across the United Kingdom, and those who enjoy an enjoyable read from a tactile paper-based book in the traditional fashion are using the most modern means of all to buy it – internet shopping with payment via digital means.
6: Cosmetics and beauty products
The market for cosmetics and beauty products is vast and has been gradually moving online. These days, almost 30% of online shopping in the United Kingdom is for beauty products and cosmetics. Looking cool as well as being technologically avant-garde is a good combination!
7: Consumer appliances
For those who remember the pre-internet days, buying a new washing machine or oven would require a trip to a retail electrical store and then a heavy job of lifting a large item into a vehicle and then reversing that procedure once home. Thankfully, those days are gone, and ordering such items via the internet is now in vogue. Simply choosing the item, making the purchase via electronic means, and then waiting for delivery is the way of today.
8: Children's toys
The market for children's toys has almost completely moved online. The demise of the UK division of North American toy retailer Toys R Us in 2018 and the end of the road for Mothercare coincided with a move toward choosing children's toys and entertainment online. There are even subscription service companies operating in Britain which allow customers to pay a fixed monthly fee and have a new series of toys each month, returning the ones enjoyed during the previous month. Overall, the children's toy market is now vast and flexible thanks to e-commerce initiatives.
9: Sports equipment
Tennis racquets, skiing equipment, golf clubs and accessories, and even footballs are now very much the subject of internet shopping across Britain. A wide range of equipment for all ages and from all global manufacturers searchable by just a few clicks has made life for busy professionals who enjoy a game of golf or a ski trip during that precious time off, much more efficient. No longer are golfers tied to the pro shop at their golf club but can search for deals online for their favourite products, and even football fans can pick up a quickly delivered deal on a new football via a few seconds on the internet.
10: Holidays and weekend breaks
The travel industry has moved online to the extent that there is a range of dedicated travel websites which allow people to compare flight prices, hotel rates and even rental car prices and book entire trips via one portal. Corporate and private trips are now almost all booked online, and travel agencies are websites rather than high street shops as they once were. Never has being a world traveller been easier or given access to so many options.
Conclusion:
Over 60% of all retail purchase transactions are conducted online these days therefore, choosing the right electronic wallet app is vital. Monevium has a highly advanced, user-friendly approach to facilitating all your online payment needs as we embrace the convenience of shopping for all manner of items from the comfort of everywhere.
Monevium is the Trading Name of Advanced Wallet Solutions Limited, a company registered in the UK under company number 10251711 and is regulated by the UK's Financial Conduct Authority under Firm Reference Number 766038.