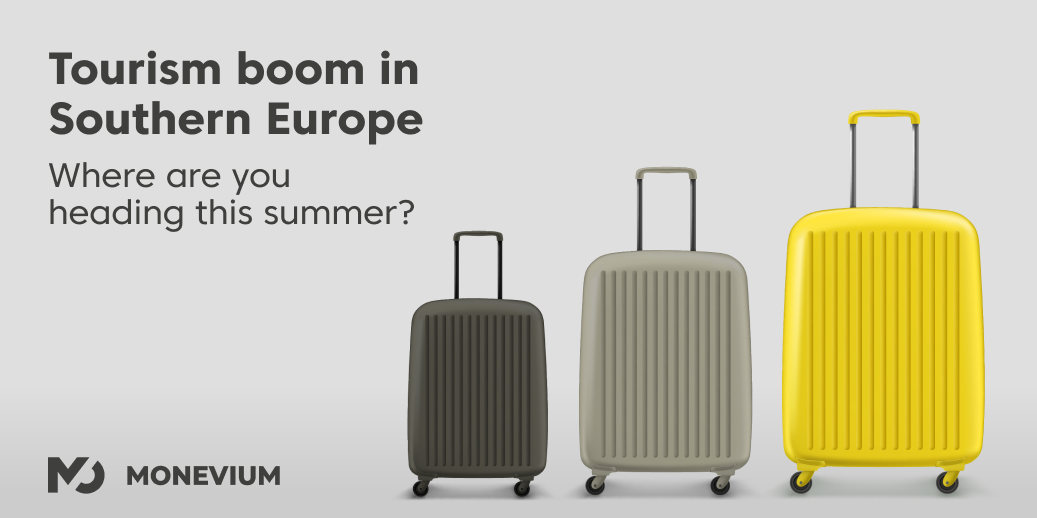 Finally, the clouds that have adorned the sky for a longer period than usual in the northern European countries are beginning to disperse and give way to some patches of blue and a degree of sunshine.
It's already June, and many people have become accustomed to an underwhelming and somewhat colder spring than perhaps had been expected, however further south, the golden rays are already abundant, and the relaxation of the Aegean and Mediterranean beaches is beckoning.
Despite the challenges that exist across many European societies, including high-interest rates, a cost-of-living crisis and energy price rises which have been exponential since the government began imposing lockdowns on its populace followed by geopolitical upheaval, many people are clearly attempting to make for the sun and have that well-deserved rest and relaxation.
This year, there are a huge number of early reservations for package tours to the Iberian Peninsula in Spain, the fabulous Algarve region of Portugal, as well as various regions across Italy and the ever-popular Greek islands.
Even investment analysts within some of Europe's largest banks are beginning to look at the possibility of using these early bumper bookings as possible measures for boosting the economy of nations with popular tourist destinations during this year.
As an example, the number of visitors to Italy in January and February 2023 was 70% higher than the same period the previous year.
Portugal, one of Europe's most popular tourist destinations, which also has attracted digital nomads from across Europe on a longer-term basis during the past three years due to its modern economy and beautiful scenery, has had 2.8 million tourists in the first three months of 2023, which is a record.
The enthusiasm for heading south is clear. Where will you go?
1. Milan, Italy
Tourism is not just about heading to sun-drenched coastlines; it is also about short city breaks, and Milan offers the ideal opportunity.
Milan is a centre of fashion and has modernised itself tremendously over recent years. Deals are to be had in boutique shops, and contactless payments are accepted everywhere, from the trains and buses to restaurants and the clothes shops that Milan is famous for.
Fancy a Risotto a la Milanese with saffron and slow-cooked Ossobuco with red wine sauce in exquisite surroundings before buying that elegant ensemble? Milan is only a two-hour flight from anywhere in the United Kingdom, and a quick tap of your Monevium account's eWallet makes everything possible across the city.
2. Lisbon, Portugal
Lisbon is an uber cool capital city on the West Coast facing the Atlantic Ocean, which is far enough south to have enviable weather from Spring to almost the beginning of Winter, world-famous cuisine featuring fresh fish and delicacies such as Pastel De Nata all the way to legacies developed during the era of the Portuguese spice trade such as bacalhau, and a combination of a picturesque, mountainous urban landscape featuring classically elegant buildings, squares and boulevards with luxury brands.
Adding to the allure of Lisbon is the absolute modernity of its people and society. It may look classical and elegant, but Lisbon is a high-tech centre with the annual Web Summit taking place in the city and a highly developed internet and software engineering industry which has attracted talent from all over Europe and South America.
Lisbon is on the up, very vibrant and allows visitors to relax and enjoy the views, cuisine and culture or get involved in the high-tech scene.
Given the nature of development in Lisbon over recent years, contactless payments are accepted everywhere, and your Monevium eWallet is the user-friendly key to enjoying all aspects of this fabulous city.
3. Lindos, Rhodes, Greece
If being surrounded by picturesque white buildings whilst looking up at a clear blue sky is your thing, Lindos, the capital of the Greek island of Rhodes, is a very popular destination this year.
Even as April drew to a close, Greek Tourism Minister Vassilis Kikilias has already announced that bookings for this summer across the entire country are already setting a record.
The islands are the jewel in Greece's crown, and fresh citrus fruit juice, whilst enjoying total relaxation and the sound of the sea, is going to be a welcome break for many tourists from Northern Europe this year.
Greece's tourist authorities place very high importance on ensuring that visitors from overseas can access every aspect that the islands have to offer, and in doing so, have made substantial investments into ensuring that an up-to-date system for going about an enjoyable time away is in place.
In Rhodes, it is possible to order guided tours, charter boats, visit an array of restaurants and enjoy local entertainment, all with no more effort required than a tap of a mobile phone or smartwatch onto a contactless payment terminal.
Life in the Mediterranean and the sun-soaked regions of Southern Europe have always been enviable and effortless for those visiting each year however, with modern technology, it all just got even easier.
Monevium is the Trading Name of Advanced Wallet Solutions Limited, a company registered in the UK under company number 10251711 and is regulated by the UK's Financial Conduct Authority under Firm Reference Number 766038.